Are you planning on having a casino themed party? Or wondering what to wear at the next Halloween festivity? See the slideshows below and get inspired by the celebrities dressed in the most gorgeous Las Vegas themed costumes ever! Wear a casino costume that will bring that extra sparkle to the party!
The Cute / Hot Queen of Hearts Costume
The Queen of Hearts costume is a very beloved outfit at the casino night parties and the Halloween festivities, and we can see why. These themed dresses can be very cute and hot at the same time. Just look how gorgeous Kim Kardashian and Holly Madison are in a Queen of Hearts casino costume. If you want to accentuate the cute/hot look, then copy the style of  Christina Millian and Alesandra Ambrosio, and wear this outfit with knee stockings!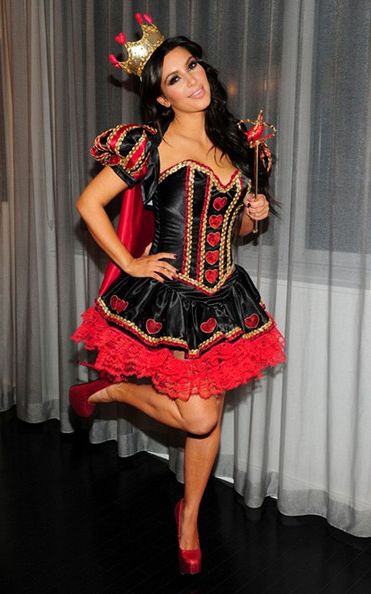 Kim Kardashian in Queen of Hearts Costume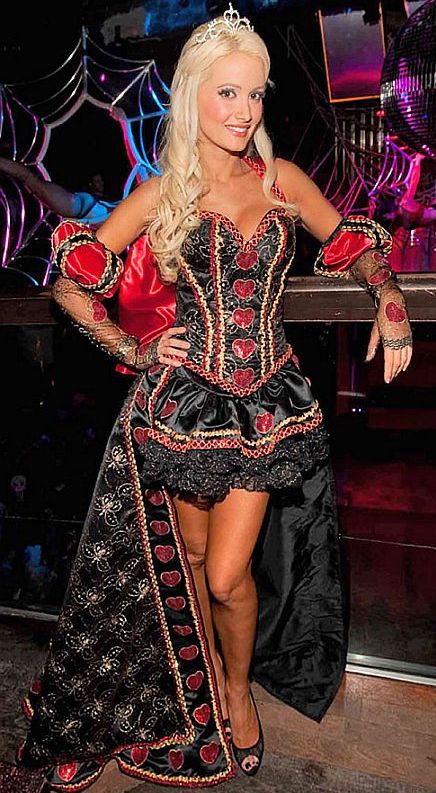 Holly Madison in Queen of Hearts Costume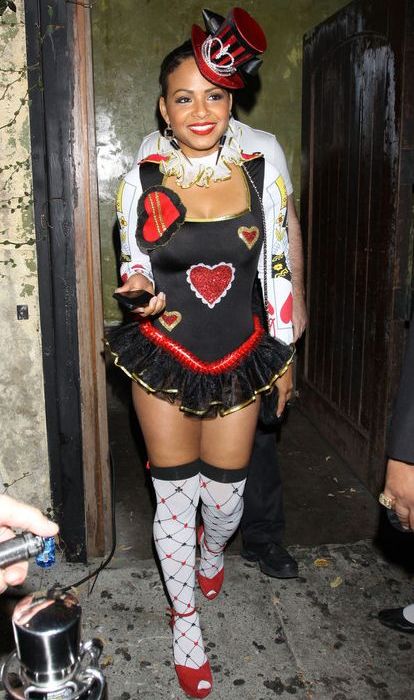 Christina Milian in Playing Card Casino Costume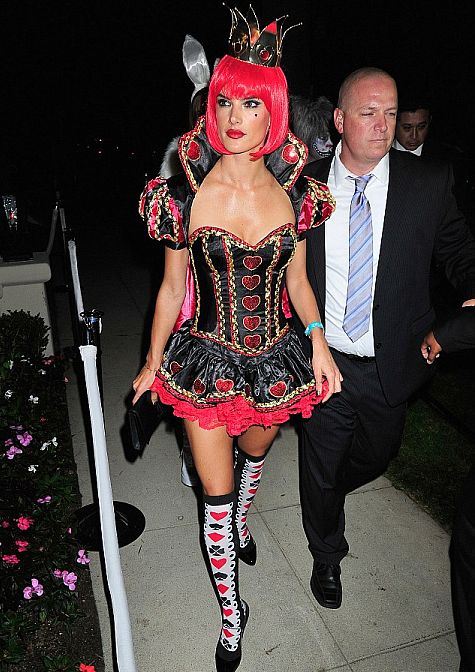 Alesandra Ambrosio in Queen of Hearts Costume
The Sexy Bunny Costume
The bunny costumes are also very popular at any casino themed party, and one of the most beloved casino Halloween costumes. Most of these dresses are very sexy, but you can also find bunny costumes that are less revealing. If you want a sexy look, then check out the bunny costumes worn by the real playboy girls Holly Madison, Bridget Marquardt, Carmen Electra, Kate Moss, and Dolly Parton. The picture on Dolly Parton is a real classic from 1978 – showing that the bunny costume is always in fashion no matter what the year is! If you want to give the bunny costume a new edge – then check out the pictures with Khloe Kardashian, Britney Spears, Paris Hilton, and Ellen DeGeneres! Khloe's and Britney's casino themed costumes are more covered compared to the traditional bunny suits, but their look is still very sexy. Paris Hilton has a bunny outfit in an uplifting blue color. If you can't make up your mind between dressing up as a casino dealer or a bunny, then go for a mixed outfit/look as Ellen DeGeneres does!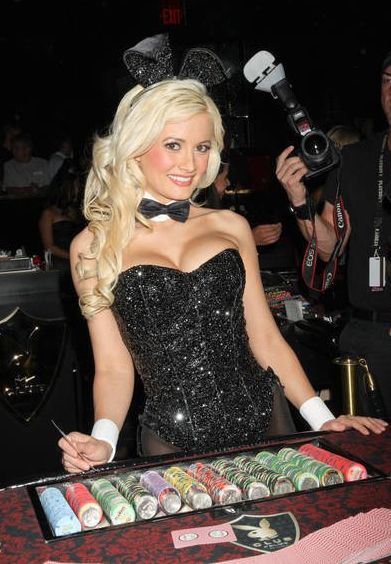 Holly Madison in Bunny Casino Costume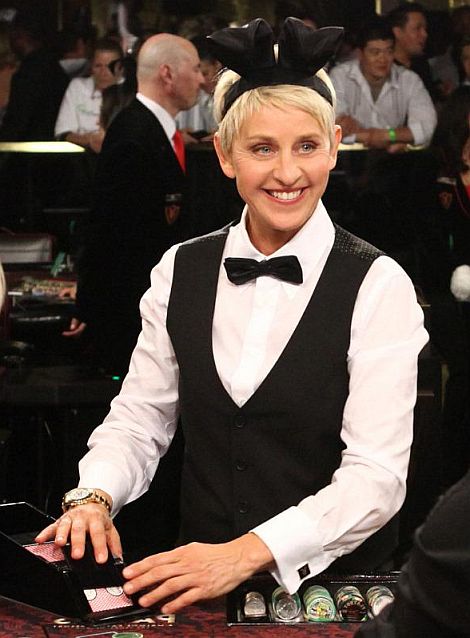 Ellen DeGeneres in Bunny Casino Dealer Costume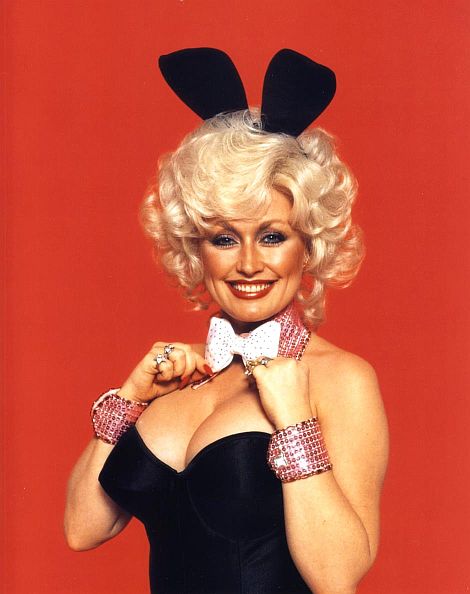 Dolly Parton in Bunny Costume from 1978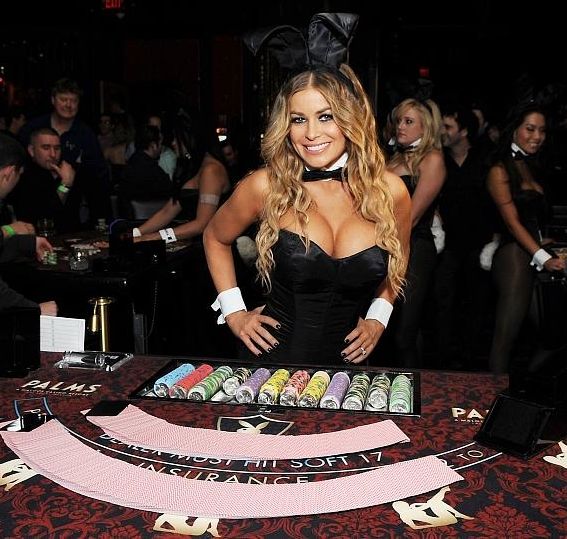 Carmen Electra in Bunny Casino Costume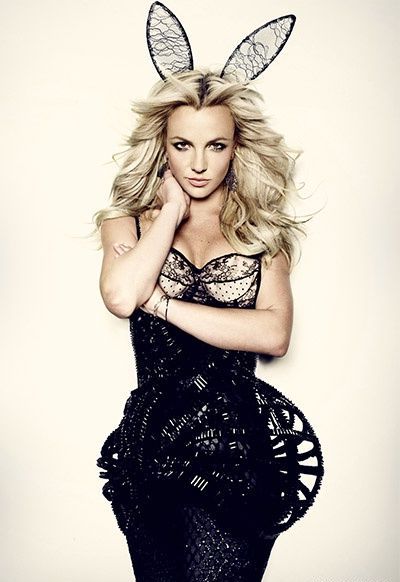 Britney Spears in Bunny Costume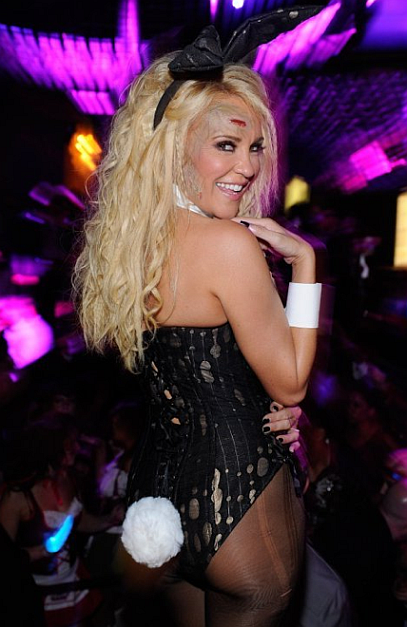 Bridget Marquardt wearing a Casino Bunny Costume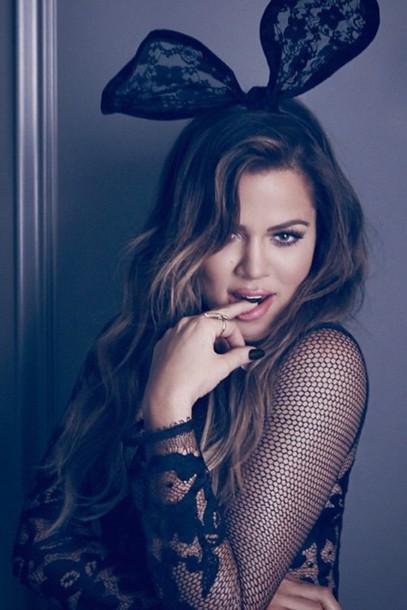 Khloe Kardashian in Bunny Costume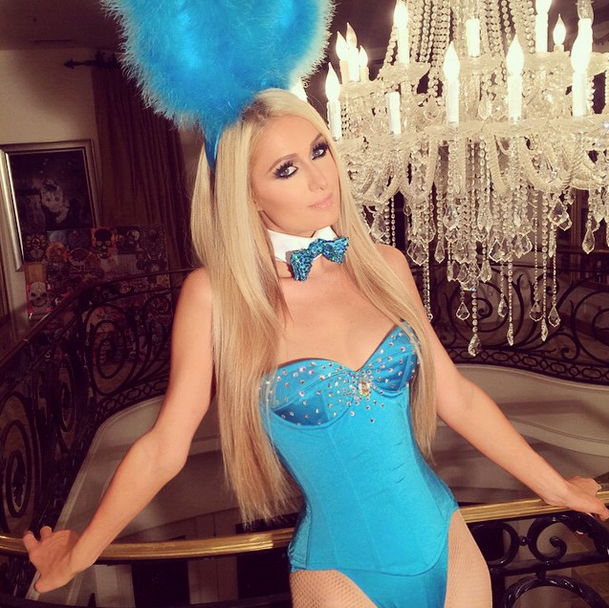 Paris Hilton in a blue Bunny Costume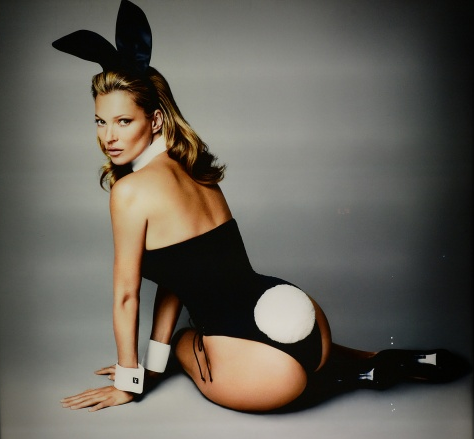 Kate Moss wearing a black Bunny Costume
The Flapper / Gangster Costume
If you are going to a casino party as a couple, then what could be a better idea than to dress up as a power couple from the 1920s. This was the era when illegal gambling and the Charleston dance were very common and popular. Check out the gorgeous flapper / gangster look that Kim Kardashian and Reggie Bush have going on. Nick Jonas and Olivia Culpo also make a cool couple! Another perfect match for the flapper dress – besides the gangster casino costume – is the tuxedo. Get inspired by Daniel Craig as he wears a tuxedo in the James Bond movie "Casino Royale". Also, check out Leonardo DiCaprio and Carey Mulligan when they wear a tuxedo and flapper outfit in the movie "The Great Gatsby". If you are going to a casino or Halloween party solo, then choose your own style. Check out Selena Gomez' beautiful flapper look! Perhaps you want to wear an alluring flapper dress, like the one Rhianna is wearing? Or white casino party costumes like the ones Lauren Conrad and Julianne Hough are dressed in? Take your girlfriend to the party and get inspired by Heidi Klum and Kim Kardashian in their casino night costumes. Or why not dress as Kendra Wilkinson – in a hot gangster outfit!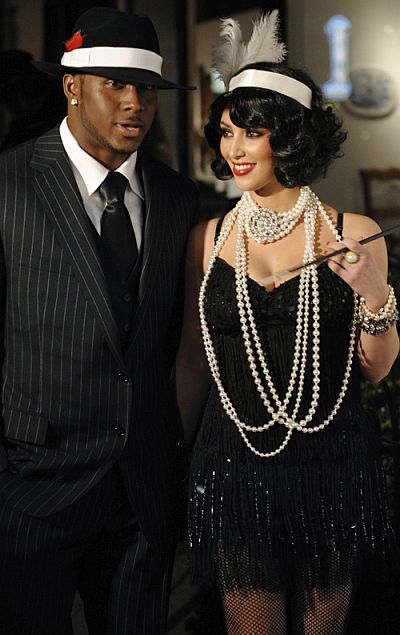 Kim Kardashian and Reggie Bush in Flapper/Gangster Outfit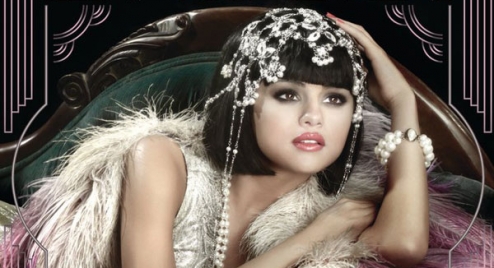 Selena Gomez in Flapper Inspired Costume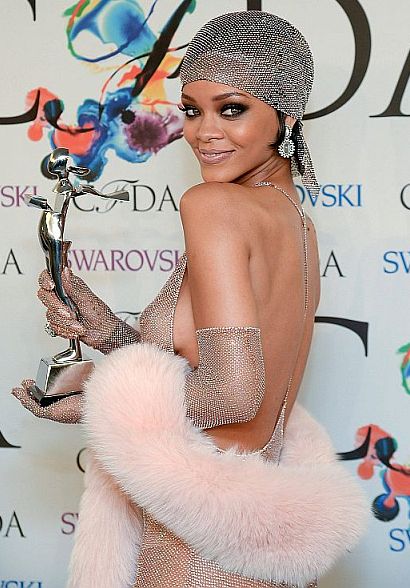 Rhianna in a Flapper Outfit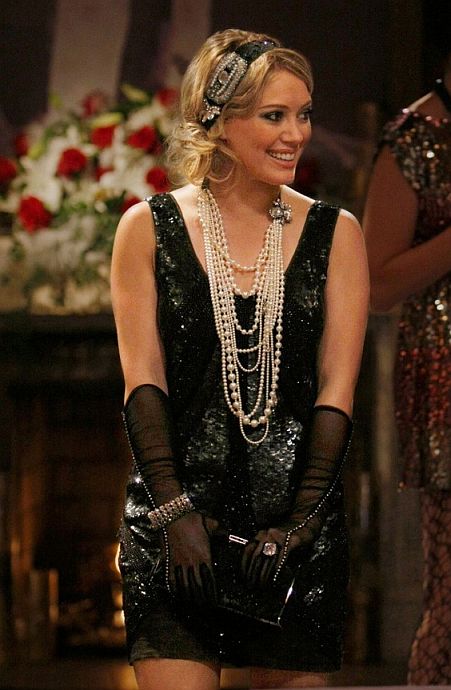 Hillary Duff in Flapper Casino Costume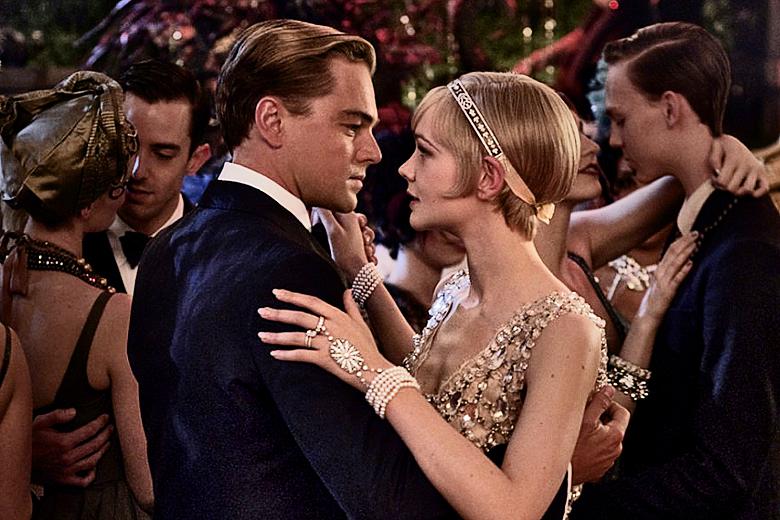 Leonardo DiCaprio & Carey Mulligan in Tuxedo and Flapper Dress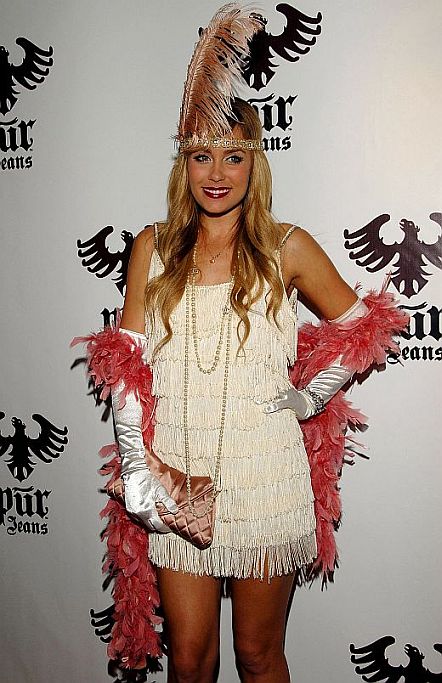 Lauren Conrad in Flapper Costume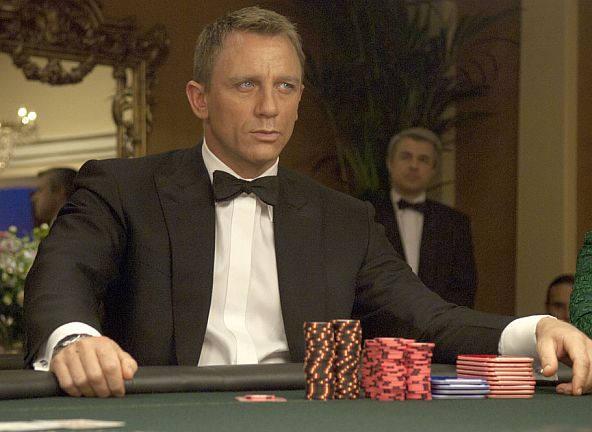 Daniel Craig in a classy Tuxedo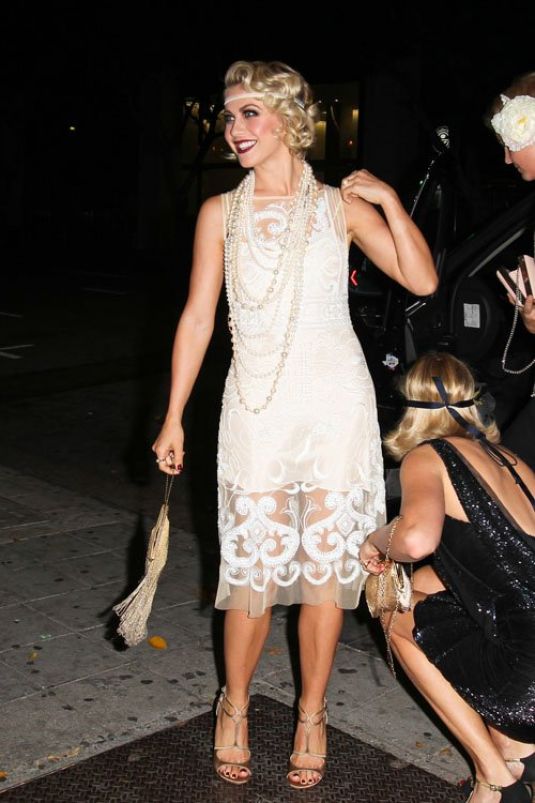 Julianne Hough in Flapper wear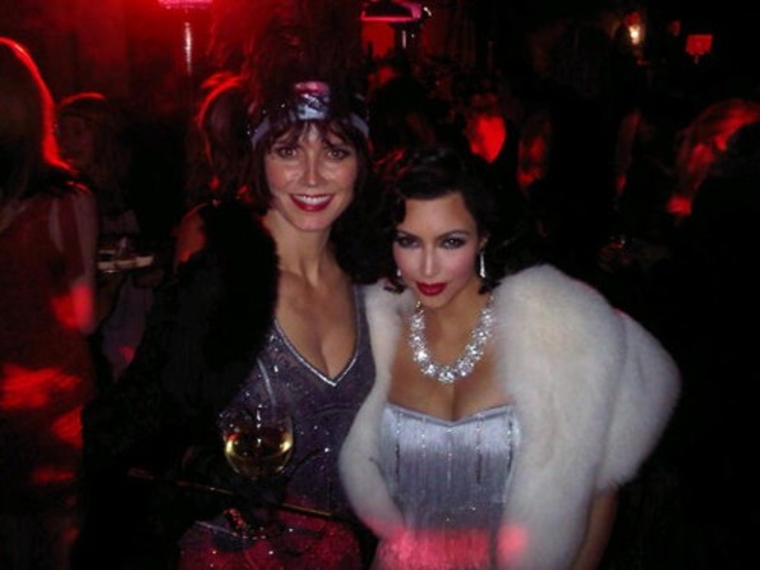 Kim Kardashian & Heidi Klum in Flapper costumes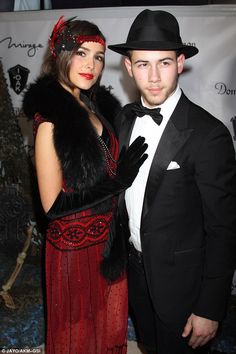 Nick Jonas & Olivia Culpo in Gangster and Flapper Casino Costumes
The Elvis Costume
Another popular outfit at the casino parties, is the Elvis costume. It is one of the most sought after Las Vegas themed costumes. Be a Elvis copycat like Curt Russel and Kevin Costner. Shake up the party and sing "Viva Las Vegas" in a cool Elvis casino night costume!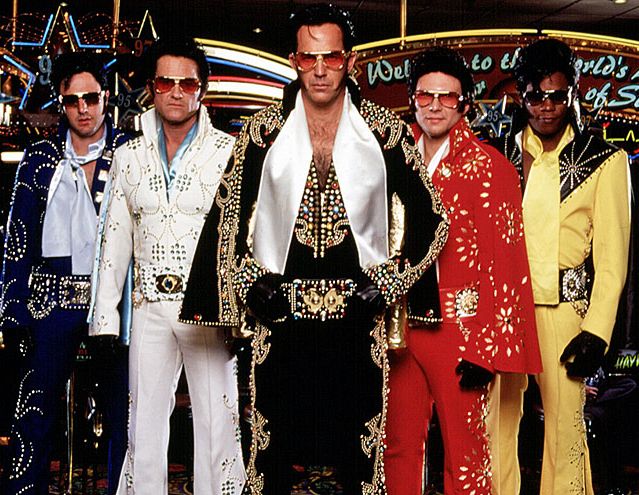 Celebrities in Elvis Costumes
Kurt Russell in Elvis Costume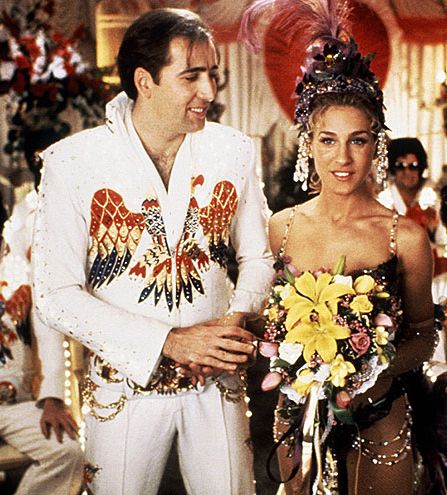 Nicolas Cage & Carrie Bradshaw in Elvis and Showgirl Costumes
Las Vegas Showgirl Casino Costume
If you want to make a breathtaking entrance at the next casino party or Halloween party, then check out the stunning showgirl dresses worn by Kylie Minogue, Rhianna, Christina Aguilera, Olivia Wilde, Dolly Parton, and Marilyn Monroe. The showgirl dresses are the most glamorous casino night costumes that you will find, and they will definitely bring that extra sparkle to the party!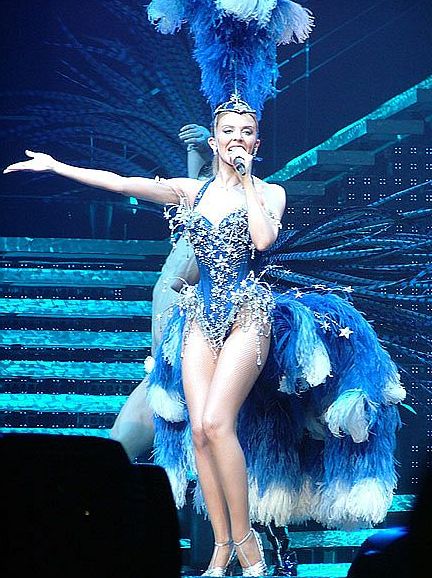 Kylie Minogue in Vegas Showgirl Costume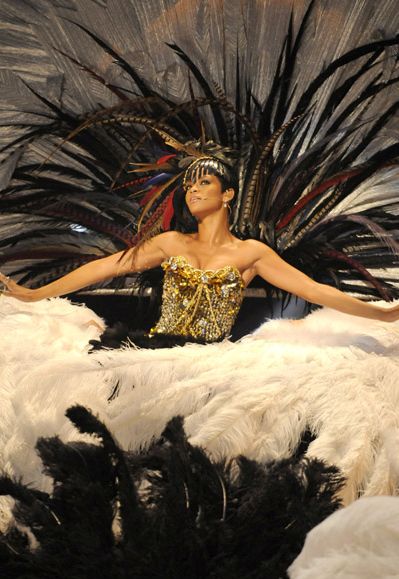 Rhianna in Vegas Showgirl Costume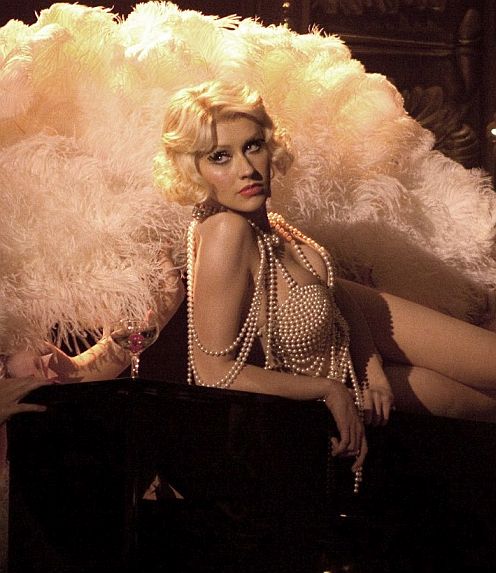 Christina Aguilera in Burlesque Costume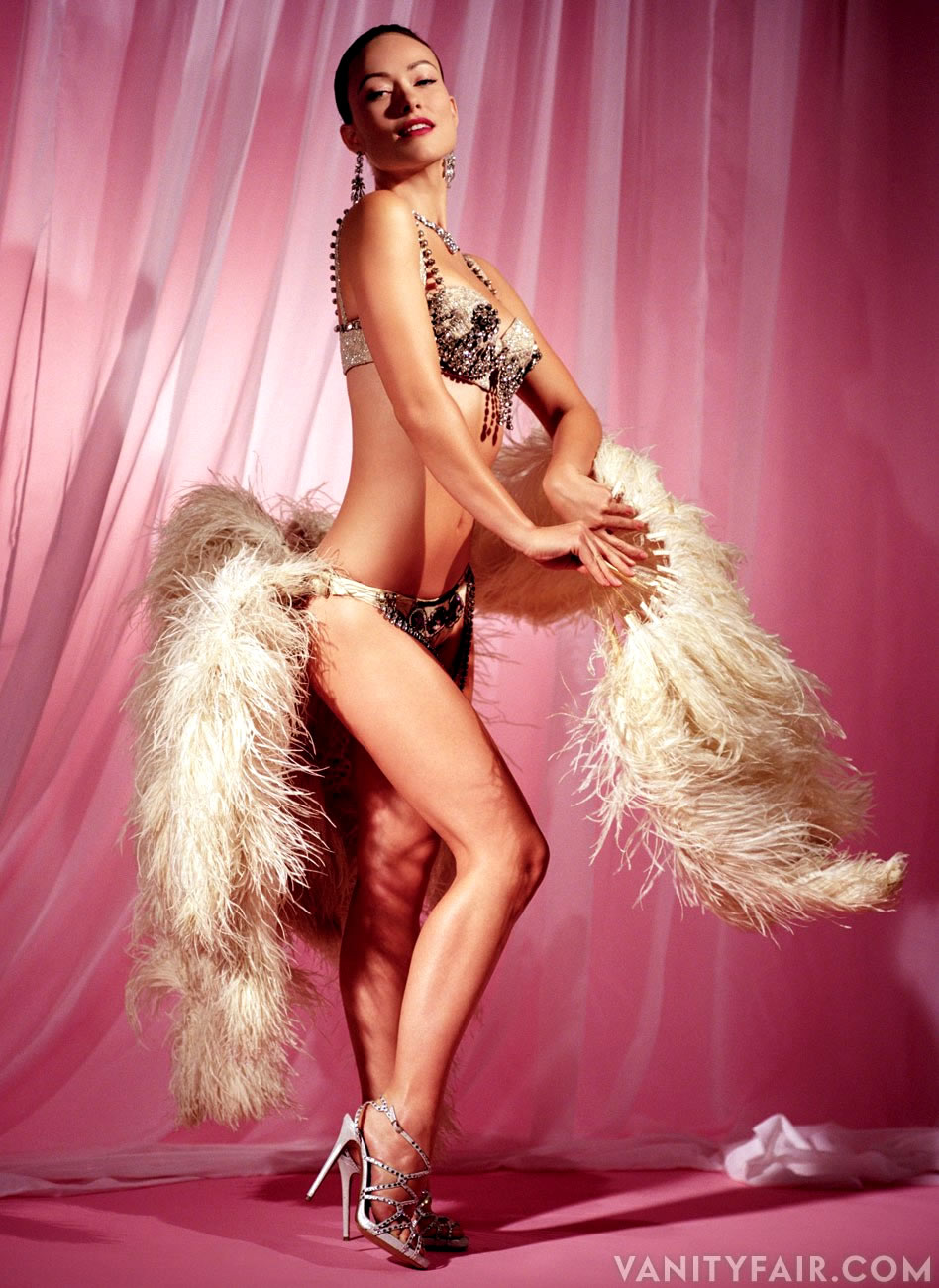 Olivia Wilde in Showgirl Costume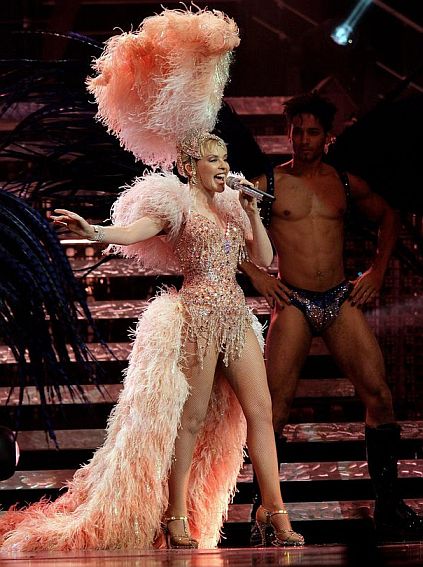 Kylie Minogue in Pink Showgirl Costume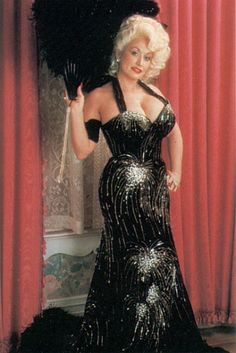 Dolly Parton in Showgirl Costume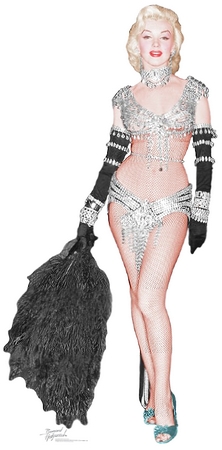 Marilyn Monroe in Showgirl Costume
Burlesque Casino Costumes
Other burlesque costumes that are very sought after at the casino themed parties are the Wild West gambling costumes for men and the saloon costumes for women. The Parisian Can Can dresses from the early 1900s are also perfect casino themed costumes that you could wear. If you want to dress like they did back in the Wild West then think of the movies "Wild Wild West" with Will Smith and Salma Hayek, and "Maverick" with Mel Gibson and Jodi Foster. If you want the Can Can look, then get inspired by Nicole Kidman in the movie "Moulin Rouge".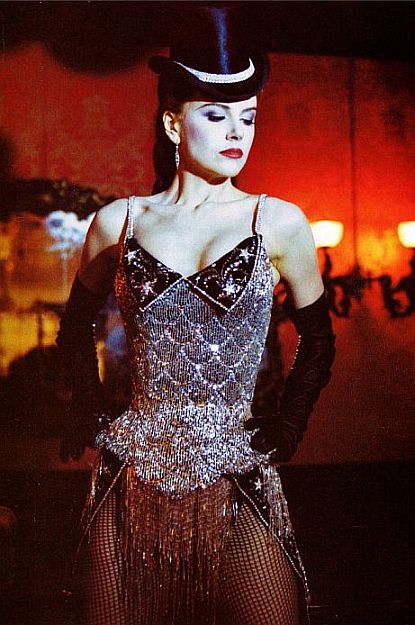 Nicole Kidman in Moulin Rouge Costume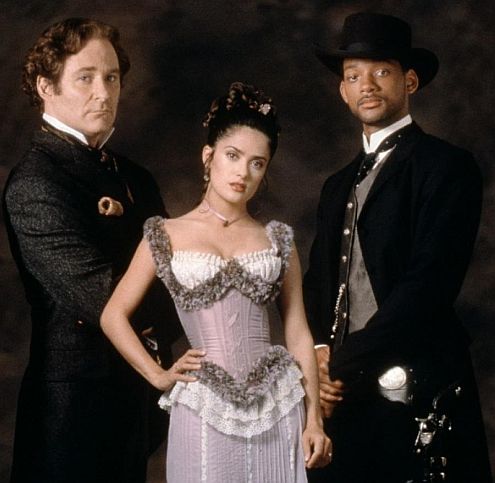 Will Smith, Salma Hayek & Kevin Klein in Wild West Costumes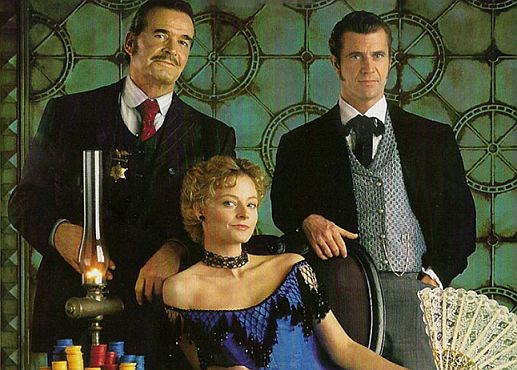 Wild West Casino Costumes from the movie Maverick
Custom Casino Costumes
Be creative and make your own casino wear! Get inspired by the fun poker halloween costume and the playful dice outfit worn by Katy Perry. Or if you prefer something more sexy, then take a look at Candice Swanepoel in a steaming hot casino themed costume!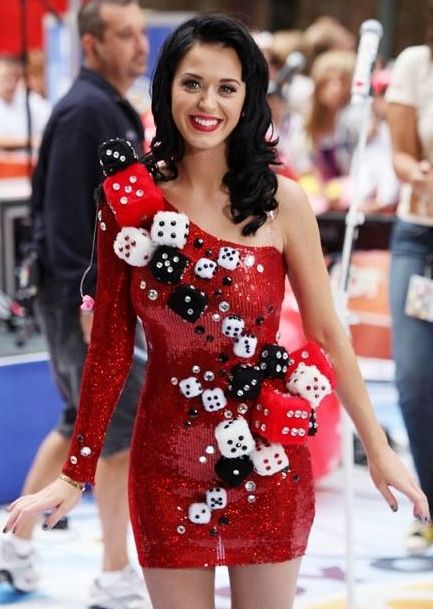 Katy Perry in a Dice Inspired Outfit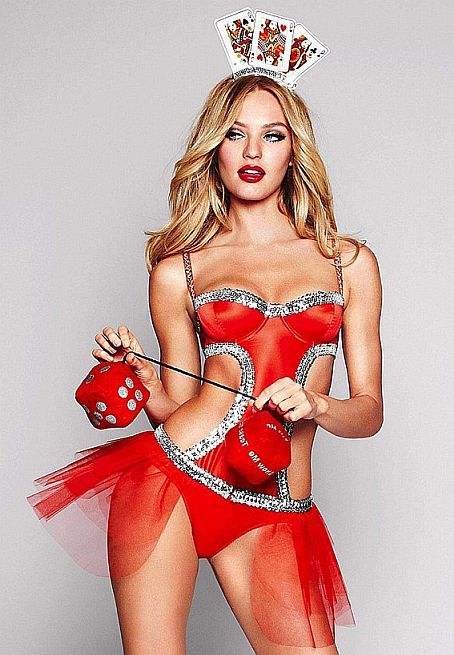 Candice Swanepoel in a Casino Themed Outfit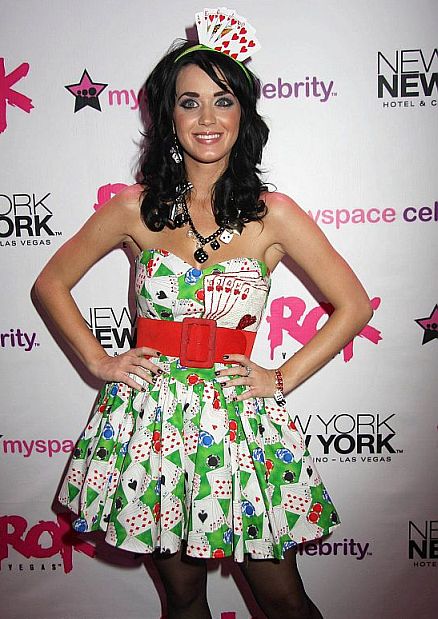 Katy Perry wearing a Poker Costume